What happens when your target audience doesn't understand your story?
Client's campaign before DBA&D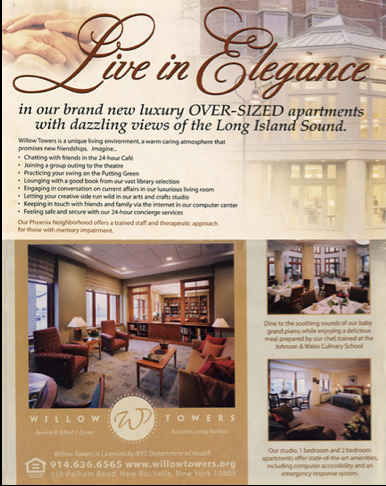 Challenge:
Willow Towers—a successful long-term care provider— built a new luxury assisted living facility with 126 apartments. After more than a year of marketing, only 35 apartments were occupied. The marketing that had been done looked professional, but didn't provide the prospect with a reason to choose Willow Towers vs. its competitors.
Solution:
DBA&D was hired to strategically position Willow Towers — to build a stronger brand story around a uniqueness that the brand offered — and to develop a new media recommendation in terms of where the message should appear.
Since we knew that moving to a senior living facility can be scary, we wanted a confident and welcoming strategy. We focused on a money back guarantee. "If you don't love living at Willow Towers after 30 days, we'll give you your money back." At the same time, we focused on such welcoming upscale amenities as: a culinary school-trained chef, a spacious, high quality environment and a multitude of interesting community activities.
Result:
After our new campaign ran for 3 months, 33 more apartments were rented.
Problem solved!
New DBA&D campaign